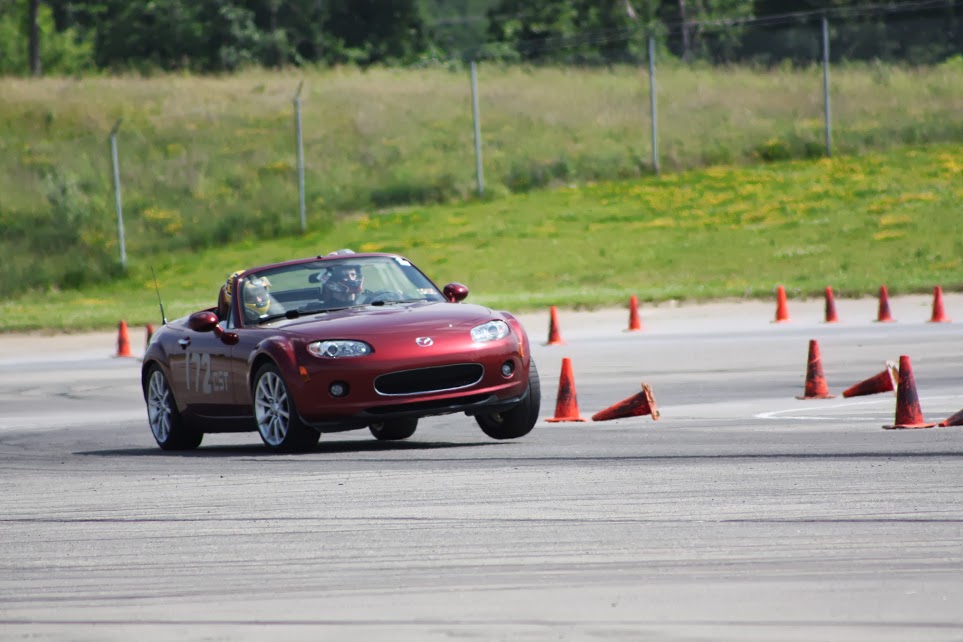 Things just keep moving up.  With the summer sun sending the temperature and humidity soaring.  So was Steel Cities attendance as another record breaking field of 117 drivers put up with the heat at Pittsburgh International Race Complex.  Several groups were well represented as both Allegheny region of the Porsche Club of America showed up as well as the local Mini Cooper owners club.  Adding to the fray this year have been several members of the Akron Sports Car Club/Northern Ohio Racing Association which have greatly contributed to the larger turnouts.  The course was a mash up between Chris Carlisle & Mark Andy whose course featured a set of "eyebrow" walls, tight "thread the needle" corners, and long high speed sweepers to round things out.
In a nod to the 2012 season, the Super Stock class swelled in size to nine drivers.  Some from out of town like Sam Strano & Andrew Pallotta.  Some with new tires like John Fink who made the jump to Hoosiers.  Some with new cars like Jay Gyger's stunning midnight blue Porsche GT3.  And several long time SCR veterans who never left the class to begin with!  And yet standing in the way of the SS cars was the familiar white Evo of Frank Gaus whose car was now a full health and looking for its first PAX win.  The dark horse was the increasing speed of drivers from the tire index classes who had already breached the top 10 in the index and were now looking to encroach on the top 5 positions.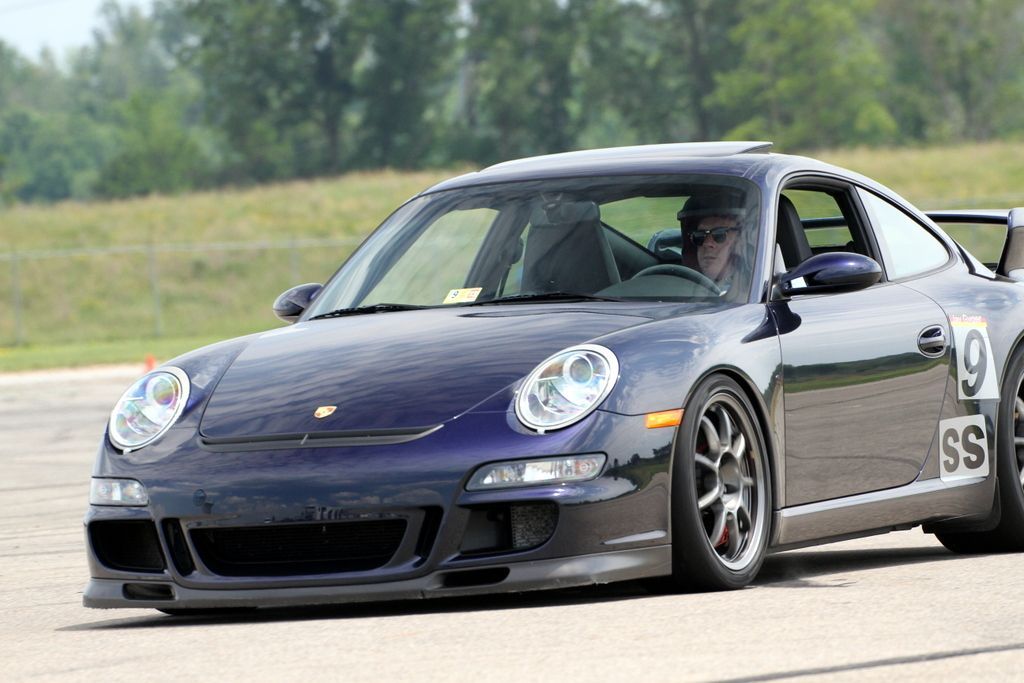 Right out of the morning runs Frank Gaus sat atop the PAX lead with 33.354 followed closely by a 33.725 of Sam Strano's Corvette.  But the real shocker was the Subaru BRZ of John Ryan, who running in C-stock tire index laid down a 35.791 to end the morning in the 3rd place position.  Fourth would go to a street tire'd car of a different feather with Chris Carlisle pulling in a 35.482 in his STC Honda Civic.  Travis Hill's Porsche 968 pulled in a 35.208 to round out the top 5 for the morning.  In a change of pace from his usual Scion FRS, Andrew Pallotta jumped behind the wheel of Strano's Grand Sport and had no trouble moving up to 6th overall.  In his first appearance to SCR this year Bill Staley Jr rolled out his boosted civic hatch in SMF to roll up to 7th place.  Steel Cities PAX winner for the first two events, Dan Ireland, was having some morning issues and had only mustered up a 8th place.  Right on Dan's heels was another street tire index competitor Mark Andy whose RX8 was eyeing up John Ryan's progress from back in 9th.  And the always fast Ethan Connor in his DSP prepared BMW would round out the top 10 for the morning.
The Vehicle Dynamics Area (or VDA) that has hosted Steel Cities events for over a decade now has been noted to change its character has the day progresses.  Hindering some drivers while at the same time opening doors for others to drop time.  The heats moved at a fever pitch as car after car took their afternoon runs trying to find more time.  In the end Frank Gaus would manage to keep Sam Strano at bay with a 33.155 to the 33.715 set by Sam.  Not to be left out of the party Dan Ireland put in a strong finishing performance and laid down a 33.759 to bring himself up to the 3rd place position for the day.  Hanging onto his morning runs John Ryan would hold off a last run charge by Mark Andy.  John's 35.791 would just be enough to hold off the 35.800 set by Mark's RX8.  This would mark the first time in the 2013 season that tire index cars would finish in the top five overall spots.  Bumped back to the 6th place position was Chris Carlisle's STC Civic which would also end up standing on its morning runs.  Andrew Pallotta negotiated a few more tenths out of the Corvette to finish in 7th overall.  Travis Hill would have to settle for 8th overall.  Meanwhile another tire index competitor made a visit to the top 10 as Bruce Wesley pushed his S2000 to the limit and would take 9th overall.  Bill Staley Jr found no improvement over his morning runs, but his time was still good enough to round out the top 10 for the day!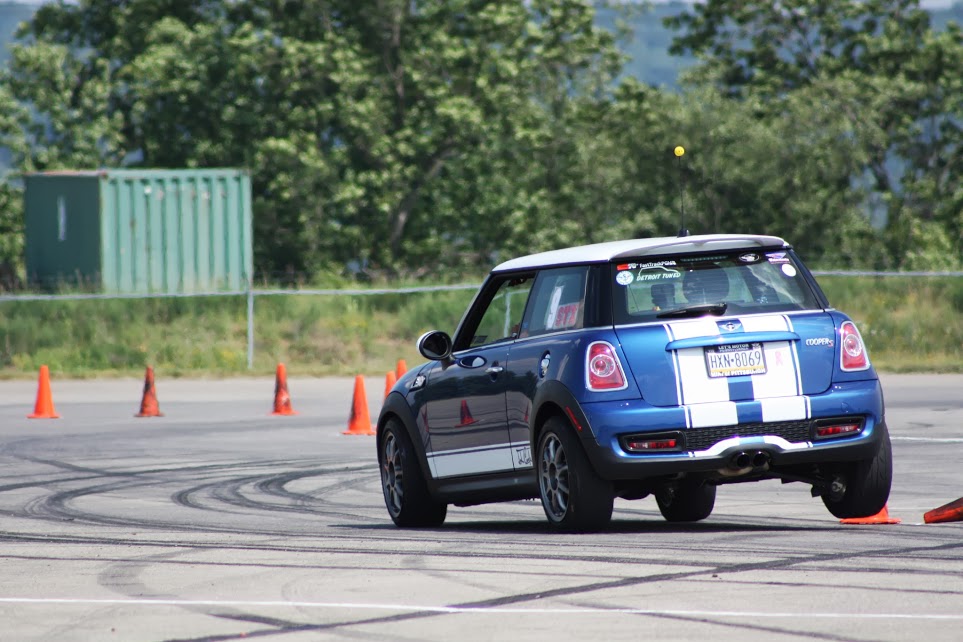 The tire index class had a grid busting 45 entries on Sunday which was a new record for the 2013 season!  As previously mentioned times were so fast for the top 3 competitors in the class that it earned John Ryan, Mark Andy, and Bruce Wesley top 10 finishing spots in the overall PAX index.  While the 3 of them served as a testament to how fast the index class has become the competition was fierce the whole way down the ranks.  Perennial fast guy Ted "spin to win" Weidner would bring his trusty Miata to the 4th overall spot behind Bruce.  Mike Ferchak was also in for a strong finish as his Scion FRS would round out the top 5 in the tire index.  Shawn Bauman came from his local Allegheny Highlands region to show big cars can be fast as he took on 6th place.  The times from the next four cars back to 10th place all indexed within the same tenth!  Nick Phillips finished in 7th with his GTI followed closely by Josh Reinard's new WRX wagon, Alex Artayet who was happily back in his own GTI, and new tire index entry Tim Ward's STI to round out the top 10.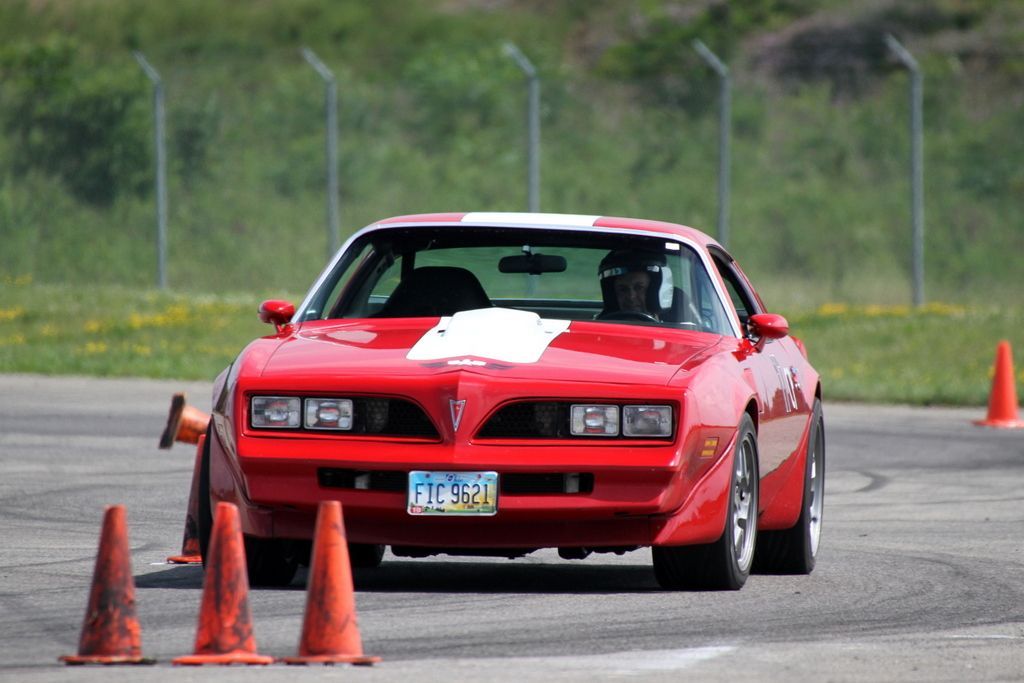 Thanks to the large turnout many other classes enjoyed a healthy showing of competitors and close competition.  In D-Stock Pete Kowalik finally came to terms with his new BMW and would take home the win against John King's Mini Cooper S.  E-Street Prepared would prove a hard fought battle as Tom Buskey's Camaro would lay down a 36.248 on its final run to come in just ahead of Paul Lynd's 36.474 in his WRX.  Don Fazekas would happily (perhaps too happily some would say) take the win over his co-driver Dennis Witt in X-Prepared.  The STF class had a nice four car showing with Colin Squire taking one home for the Mini's with a 39.138 to the 39.664 set by Austin Airhart's Mazda 3.  STR was led by Zachary Stover's Miata in the morning with a 37.559 until Steve Vyn's final run of 37.485 would edge out the win.  STX was well populated with 7 drivers.  The Mini's would once again make their presence known Jason Sukey's & Jeremy Britenbaugh's mini coopers would take 1st & 3rd respectively.  They would be split by the WRX of Anthony Robinson in 2nd place.  Brian Buchanan would take home a close win in STU as his 39.249 would just hold off the 39.359 of Dustin Diesing's WRX.  And Bill Staley Jr & Sr would use their monster civic to bring home the overall win in SMF.  Fastest time of the day was set by Tim Vincent in his shifter kart with a 31.603.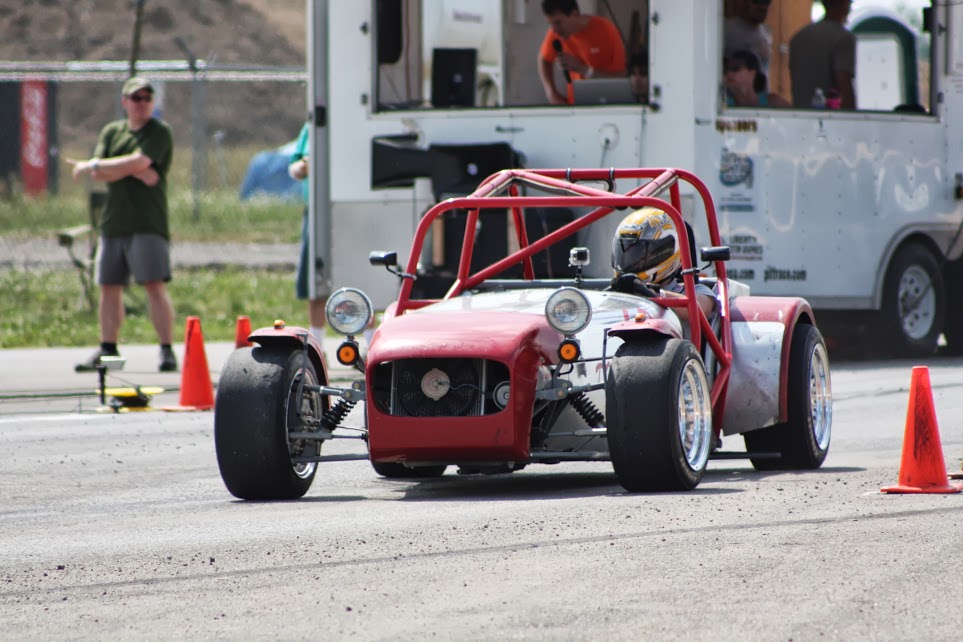 The Allegheny region Porsche club was classed independently since this actually counted as points for their own autocross series.  While they have their own separate autocross classes they were added together by raw times.  The fastest of the group was Rob Hoffman co-driving Travis Hill's 968 with a time of 37.571.  The next Porsche to lay down a fast time was one with the engine behind the driver as Justin Crickenburger ran a 38.164 in his Porsche Boxster S.  Justin was followed by fellow Boxster S pilot Scott Mores whose 38.613 would round out the top 3 for the club.
Fastest novice for the day was Tim Demetrio who was co-driving Ben Heald's Evo 10!  Tim's 37.754 would stand over Ben's 38.382 which kind of makes you wonder if Ben will let Tim in the car again!  Anthony Robinson would be the 3rd fastest novice followed by Dustin Diesing in 4th.  Both Anthony & Dustin brought out their respective WRX's to play.  And rounding out the top 5 was the rare but good looking RX7 of Kevin Bowser.
Our next event will take place at PIRC on June 30th so come out and join us!
Pictures are courtesy of Alex Artayet & Ethan Connor.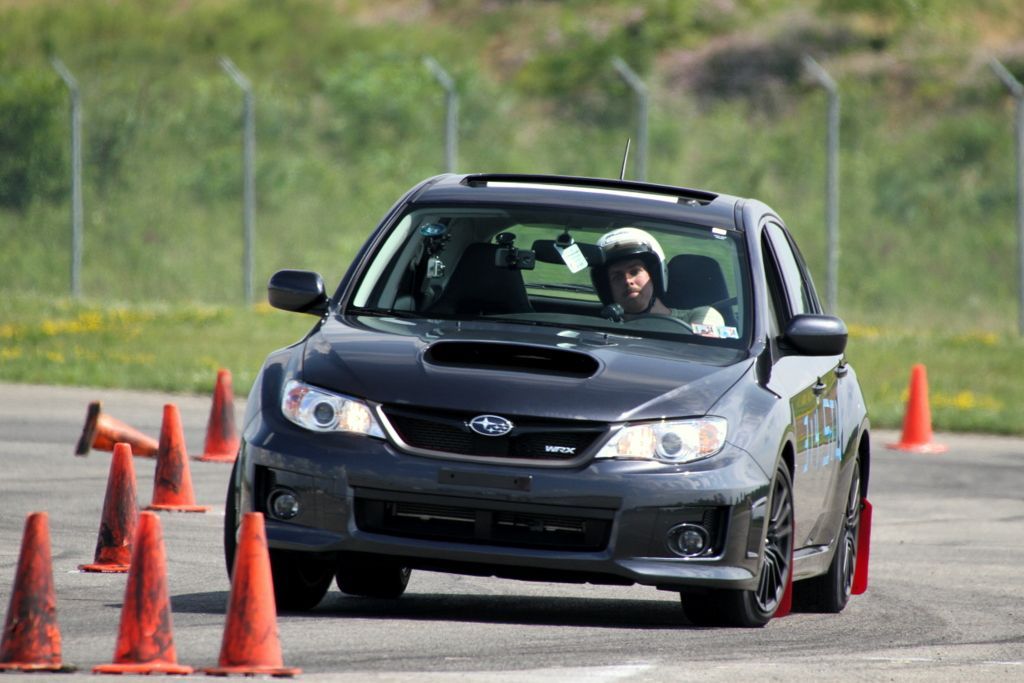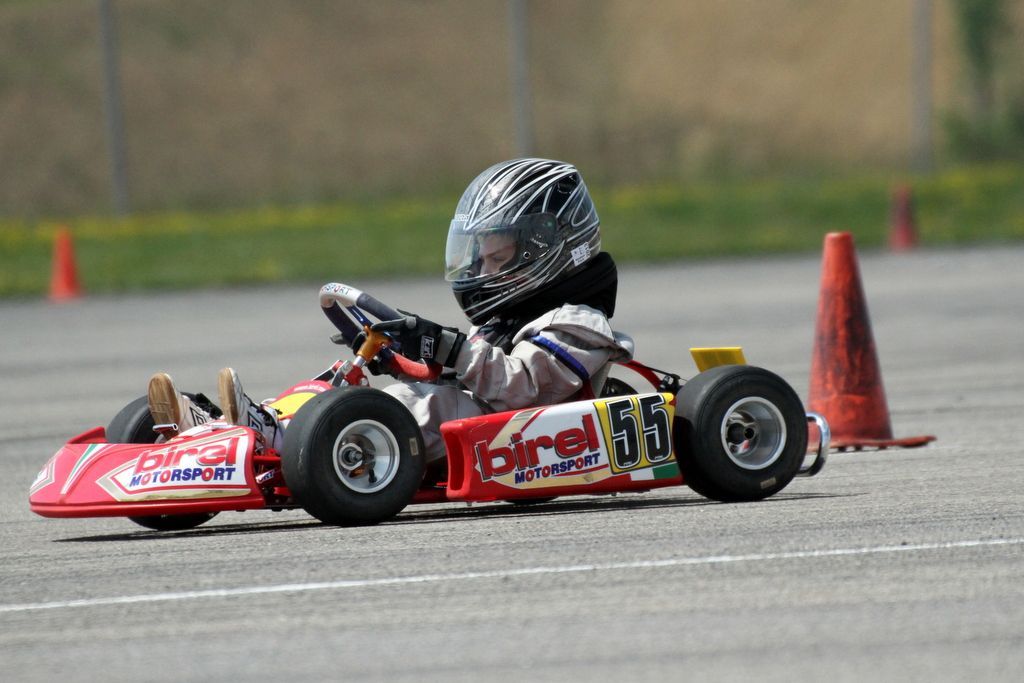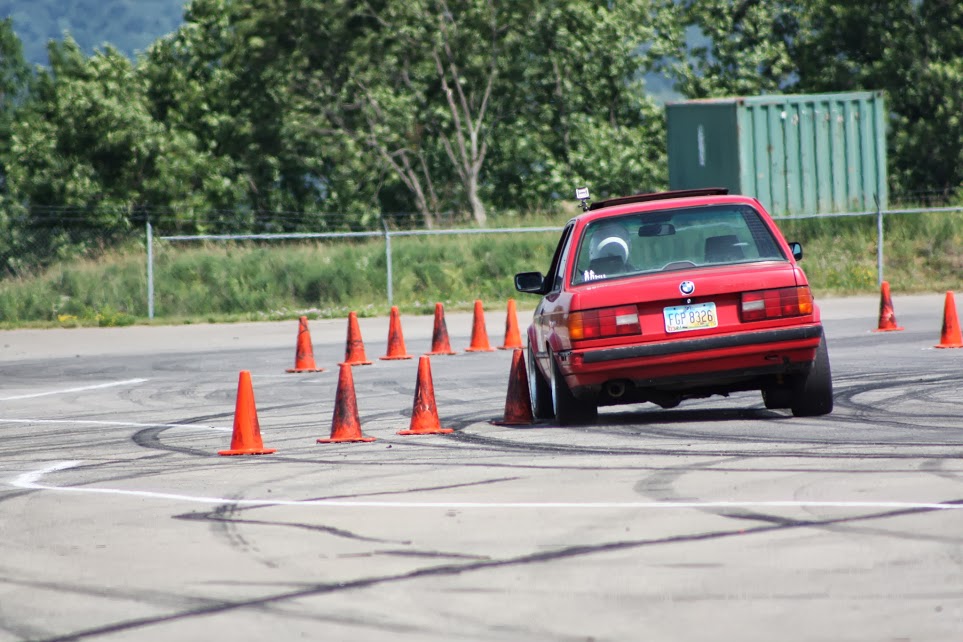 Mark Andy – Mazda RX8 – 161 CST
Greg Maloy – Honda CRX – 16 STS
Ron Williams – Subaru STI – 23 SMT